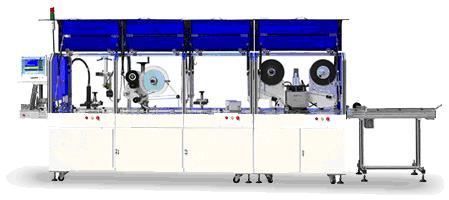 TP1

scratch-off card personalization system is composed of different functional modular equipment combined with the worldwide advanced technologies. Featured with high speed, high precision, high safety and high performance, it is a best and ideal machine for all kinds of PVC and paper scratch-off cards (All types of prepaid phone card, internet card, ADSL card, prepaid card, lottery card, discharge card, etc.).
Working process:
1. Card feeding
2. Overlapped card detecting and rejection
3. Pin number printing
4. Pin number printing detecting and rejection
5. Labeling or hot-stamping
6. Labeling or hot-stamping detecting and disqualified card rejecting
7. Cards collecting
Features:
1. Suitable for various card materials (PVC, paper etc.)
2. Integrated with printing, detecting and labeling or hot stamping, rejection, etc., all are automatically-fulfilled so as to save the time and labor cost.
3. System speed up to 20,000 pieces per hour, labeling speed up to 24,000 pieces per hour.
4. Servomotors in card feeding and labeling system ensure high speed and stability.
5. With the most advanced non-contact overlapped card detecting technology, no need to adjust requirement when changing the cards. Cards with thickness less than 0.1mm can also be detected.
6. Marketing leader inspection device, US made machine vision (DVT) ensures data accuracy.
7. Rotary hot-stamping technology ensures the perfect effect and high speed.
8. Patented foil-saving function saves the cost.
9. Reject the disqualified cards automatically to a collecting box.
10. Able to work with different brands of inkjet printers like Image, Videojet, Domino, Linx, etc. for maximum printing flexibility.
Specifications:
Card size: 54-8mm(L) x 54-8mm(W) x 0.2-1.2mm(H)
Capacity of feeder: 400 pieces each time (0.76mm thickness)
Max. Speed: 20,000 pieces/hour (Varies with different configurations)
Labeling Precision: ± 0.8mm (along movement direction) (98% is within ± 0.5mm), ± 0.2mm (across movement direction)
Hot-stamping Precision: ± 0.8mm (along movement direction), ± 0.2mm (across movement direction)
Power Supply: 380VAC, 50Hz, 4Kw (with Hot-stamping ), 2.5Kw (w/o hot-stamping)
Air: 0.6 Mpa
Environment Requirements: Ambient temperature 5-50°C, Relative humidity 15-90% (w/o condensation)