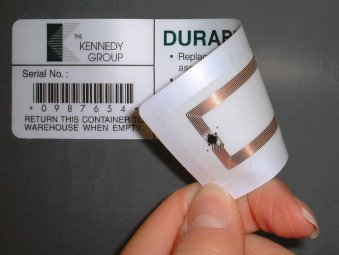 An RFID tag is a microchip combined with an antenna in a compact package; the packaging is structured to allow the RFID tag to be attached to an object to be tracked. "RFID" stands for Radio Frequency Identification.
The tag's antenna picks up signals from an RFID reader or scanner and then returns the signal, usually with some additional data (like a unique serial number or other customized information).
RFID tags can be very small - the size of a large rice grain. Others may be the size of a small paperback book.
The major advantages of an active Rfid tag are:
• It can be read at distances of one hundred feet or more, greatly improving the utility of the device
• It may have other sensors that can use electricity for power.
Frequencies
RFID systems are also distinguished by their frequency ranges. Low-frequency (30 KHz to 500 KHz) systems have short reading ranges and lower system costs. They are most commonly used in security access, asset tracking, and animal identification applications. High-frequency (13.56mhz,850 MHz to 950 MHz and 2.4 GHz to 2.5 GHz) systems, offering long read ranges (greater than 90 feet) and high reading speeds, are used for such applications as railroad car tracking and automated toll collection. However, the higher performance of high-frequency RFID systems incurs higher system costs.