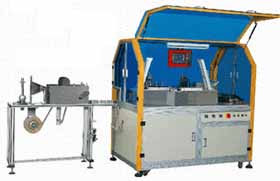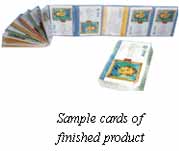 Features:
1. Incorporating film sending, card sending, packing, material separating and material collection.
2. There are two models of machines of double-card conveying and single-card conveying, and "
double cards in one bag" can be realized when two cards are conveyed at the same time.
3. Applicable for various packing film with thickness over 0.025mm.
4. Applicable for packing standard cards of over 0.25mm (paper card, PVC and ABS, etc.)
5. Moulds are convenient for replacement and size of packing bag is adjustable.
6. Packing film is conveyed by tension with specially made rubber wheel, which is stable and flat.
7. Temperature of moulds is controlled with digital temperature controller, which is accurate and adjustable.
8. Number of cards to be collected can be set.
9. Automatic testing for bar codes and repeated cards and the machine will halt in case of errors.
----------------------------------------------------------------
Technical parameters:
| | |
| --- | --- |
| Model | AP2 |
| Overall dimension | L2850xW850xH1800mm2 |
| Net weight | Approx.700kg |
| Power source | AC220V/380V 50-60HZ 25KW |
| Output | 8000 pcs/hour |
| Air source | 6kg/cm 2(no water) |
| Control method | Stepping system + PLC program |
| Packing film | Various BOPP packing film with inner diameter: 3 inches, outer diameter< 450mm, width after folding: 120mm, width before folding: 240mm, thickness: >0.025mm |
| Operator | 1-2 persons |